Book Your Rental With Spectro-UV Today!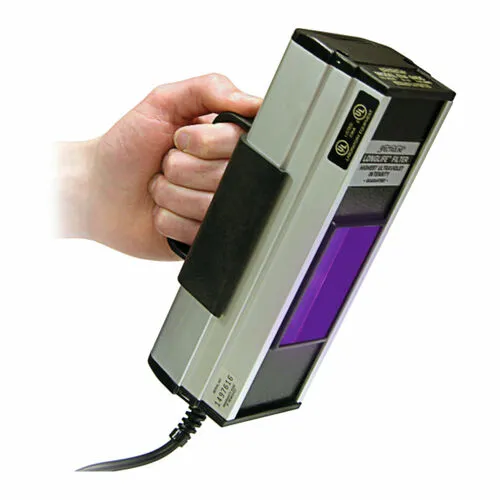 ENF-240C E-Series Battery Operated Lamp, 1X 365 nm 4 Watt Tube, 1X 254 nm 4 Watt Tube with Filter Assembly (Rent For Only $14 Per Day, 5 Day Minimum Rental)
Description
Unsurpassed UV intensities for the brightest fluorescence analysis. Each E/12-Series UV lamp is the most powerful unit of its type available. Corrosion-resistant, specular-aluminum reflectors intensify their high UV output. Our unique LONGLIFE™ filter glass, supplied with all short-wave and medium-wave models, assures higher UV intensity right from the start. Since our LONGLIFE filter ages at a much slower rate than conventional filters, it resists solarization longer, giving you many more years of use!
Key Features:
Portable, compact, lightweight models provide ideal combinations of wavelengths, intensities, sizes and wattages.
Specially designed to provide the highest intensity in its class.
All lamps come standard with attached convenient carrying handle.
Rechargeable, battery-operated units with four-way power, each with a distinct mode of operation.
Choice of automatic or manual rechargers
Whats Included: ENF-240C E-Series Battery Operated Lamp, 1X 365 nm 4 Watt Tube, 1X 254 nm 4 Watt Tube with Filter Assembly (USA Plug)
Email: Rentals@Spectro-UV.com | Phone: (516) 701-0884