Book Your Rental With Spectro-UV Today!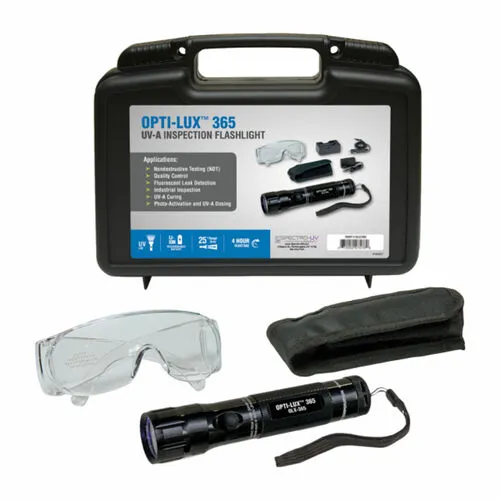 OLX-365 Opti-Lux™ Inspection Flashlight Kit (Rent For Only $14 Per Day, 5 Day Minimum Rental)
Description
OPTI-LUX™ 365 SERIES inspection flashlights feature a powerful UV-A (365 nm) LED light source coupled with a rugged anodized lamp body. They reduce user fatigue while providing an extremely uniform beam profile that surpasses those of more expensive lamps. Available in four models to suit your specific NDT needs: high-intensity or standard-intensity versions, each with or without an internal UV-A pass filter. Comes with a Certificate of Light Output for both wavelength and output measurements.
Key Features:
Anodized aluminum lamp body minimizes corrosion and stands up to years of heavy use
Instant-on operation; lamp reaches full intensity immediately
Convenient on/off switch for easy, one-handed operation
Powered by one rechargeable lithium-ion battery with an extra battery included with the lamp. Each provides 4 hours of continuous inspection between charges.
Meets ASTM UV-A intensity and wavelength specifications for FPI and MPI
Equipped with a clear filter and available with internal black light filter. Externally mounted black light filter with rubber bumper can be purchased as an accessory.
Comes with a Certificate of Light Outputfor output and wavelength measurements
Meets ISO 3059 Specifications
Whats Included: Come complete with OLX-365 LED UV-A (365 nm) lamp with lanyard, two rechargeable batteries, smart charging cradle with AC and DC cord sets, UV-absorbing spectacles, belt holder, and hard carrying case.
Email: Rentals@Spectro-UV.com | Phone: (516) 701-0884